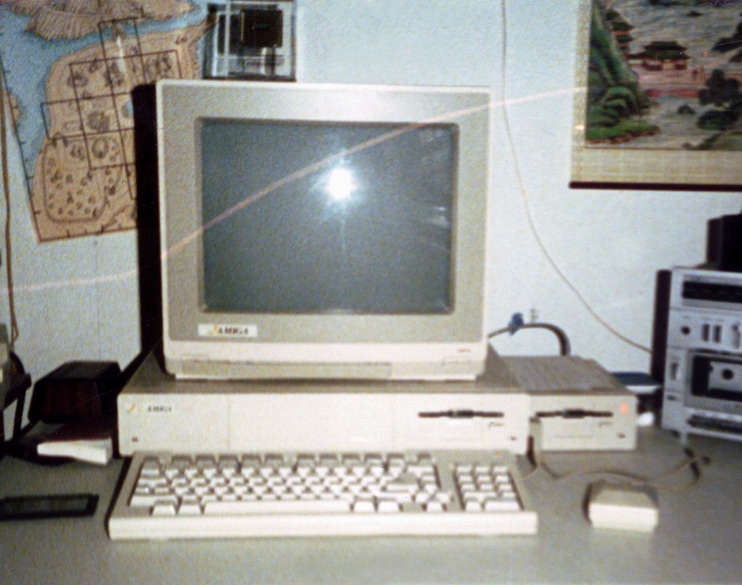 Thirty five years ago I became an Amiga user. One of the first, actually. This is a meandering and reminiscent post of sorts, written to mark the Amiga's 35th birthday and the 35 years I have known and loved the system.
On July 23rd, 1985 Commodore officially unveiled its new Amiga computer at a black tie event at the Lincoln Center in New York City during which, among other demonstrations, artist Andy Warhol took the stage and used an Amiga to paint portraits of singer Debbie Harry ("Blondie"), seated across from him, with a paint program and the mouse. The attendees present at the event that day were witness to a leap in technology that was nothing short of revolutionary.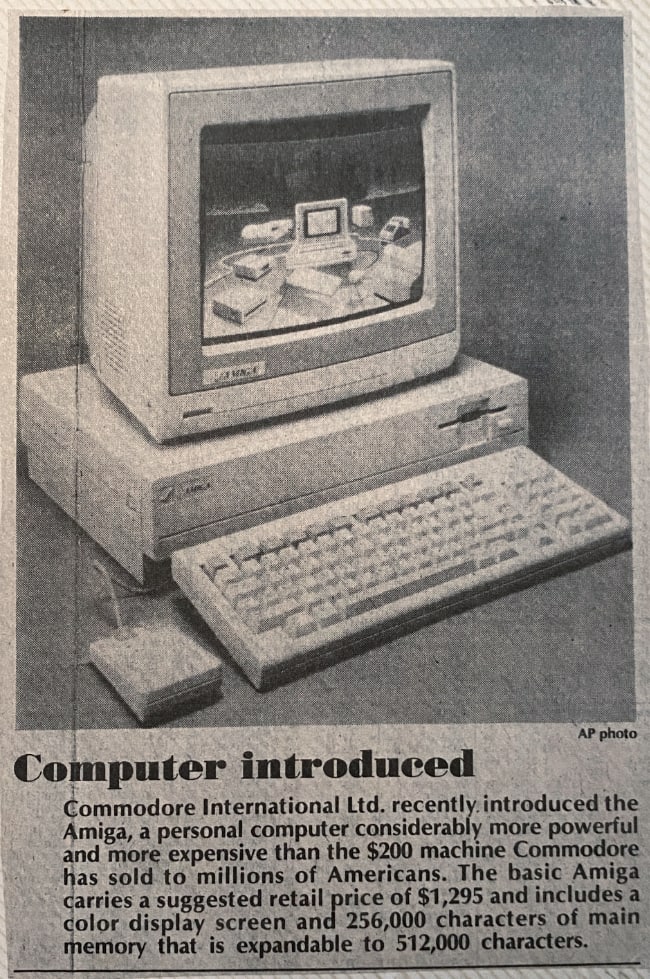 In early 1985 I had an Apple //c, my second computer, that I was trying to sell in order to purchase an (original) Macintosh. At the time, I read passing mentions in the newspaper of a new machine on the way from Commodore, far more capable than the C64, but it didn't really register with me for whatever reason. It wasn't until I picked up an issue of Personal Computing magazine in the summer of 1985 that I understood just what the Amiga was capable of, and my focus quickly shifted to owning an Amiga. (I actually carried that magazine around everywhere with me for about a month.) And, here the details get hazy. I think it was to do with the months that passed without new Amiga info (time passes slowly when it's summer and you're 13), reading issues of MacWorld magazine that were coming in the mail, and spending lots of time at Next Generation Computers in Williamsburg, Virginia playing with their Macs, but when the //c finally sold we went up to Next Generation and purchased a Mac 128k. I brought it home and was in geek heaven. For a while…
I had owned the Mac for just one week when I went to a different local computer store, Chaney Computer in Newport News, Virginia, to purchase a ($45) 10-count box of 3.5-inch floppy disks. My mother waited in the car while I ran in.
And there on the table I saw it.
The Amiga — the first one I had ever encountered. It was sitting there, fired up and running an animation demo of some sort. All of the things that made me so excited about the system before flooded back to me right there. I bought the box of floppies, but they never made it into that Macintosh.
Later that night at the dinner table, I started off a conversation I had been frenziedly honing in my mind all afternoon. And, I carried it off well, it seems; my parents agreed to changing gears, and the next day my father returned the Macintosh to the Apple dealer and we went and put a deposit down on the $1,285 Amiga. (Incidentally, It was always called the "Amiga 1000", but no one really noticed until the Amiga 500 and 2000 landed in 1987.)
A few weeks would pass before the dealer got any stock from Commodore beyond the demo unit. But, on what I believe was the 21st of October, the phone rang and they told us to come on down, the first two units had arrived and one of them had my name on it. When my mother picked me up at the end of the school day, we headed to the dealer and left with the first Amiga that they would sell.
Continue reading